DAY 13, Friday, March 25:
Roamin' with the Romans...
AM: LDS Church Services
PM: Jerash
JERASH:
Where the Emperor Hadrian once stood to address
the citizens of ancient Gerasa, we will stand as well and test the
acoustics of a beautifully preserved Roman theater.
No micro-
phones required as the construction of the theater was acoustically
designed so that speakers might be heard without the aid of modern
technology.
We've sung and danced on the stage many times our-
selves – thought he only appreciative audience member was Richard.
Be sure to pack your dancing shoes – we may have an impromptu
talent show!
Two of our daughters, graduates of the American
Community School, received their diplomas on this stage and played
"Pomp and Circumstance" in the band as their mother wept fresh tears
(not in keeping with the Roman tradition of weeping into glass vials to
preserve the tears) and listened to King Abdullah address the awe-struck
audience – awe-struck by the setting for sure! The stage is well
maintained – even some of the green room structures still stand - and is
the site of the annual Jerash Festival, an international cultural event
featuring singers, dancers and musicians from around the world.
You
will be Roman theater experts by the time we finish!
(The count is up to
5 Roman theaters on our tour!)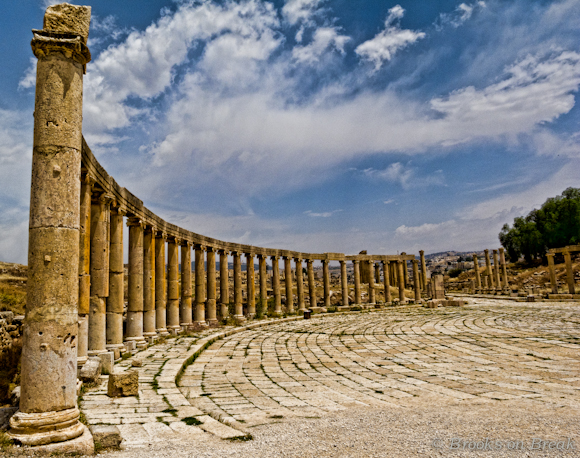 Jerash is one of those Roman ruins where you walk down a street so
Lunch: Lebanese House Restaurant
Up on a hill overlooking Jerash, it is delightful to sit and
lunch
on the
patio.
The food, particularly the local salad,
fattoush
,
is particularly
good.
11:30 PM: Depart for US from Alia
International Airport
Ma'Salaama